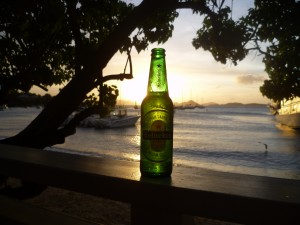 I travel a lot. And usually it's with close friends that I recruit to join my various journeys (or they recruit me, which doesn't take much effort). However, I'm someone that needs alone time every now and then. Those who know me know I'm not an extreme extrovert by any means (though it may appear otherwise if you only know me on social media).
I need alone time to stay sane. Of course, solo travel offers lots of alone time.
Yet, since I arrived in Southeast Asia on December 29th — I didn't have a single moment of alone time up until my friends left about a week ago. It's taxing on me mentally to spend numerous days socializing with total strangers. Don't get me wrong, I was with three amazingly close friends for the past month — which is different than talking to total strangers all day.
But, still, I need my alone time — which is why traveling solo right now is exactly what the doctor ordered for me.
Time for personal reflection. Time to gather my thoughts. Time for writing. Time to think. Time to read for 5 hours without a single distraction. Time to drink a beer immersed in my own world. Time to prioritize my business opportunities and obligations — and mapping out new ones (I've got a killer idea I'm mapping out). Time to do whatever I like, whenever I like.
What about you? Are you a fan of solo travel?