Getting off the tourist trail in Bangkok
Bangkok is one of the world's biggest, and most bustling cities. It goes by several names, including the official Thai name "Krungthepmahanakhon Amonrattanakosin Mahintharayutthaya Mahadilokphop Noppharatratchathaniburirom Udomratchaniwetmahasathan Amonphimanawatansathit Sakkathattiyawitsanukamprasit" (no joke!). This is the longest city name in the world, or just "Krung Thep Maha Nakhon" for short, translating to City of Angels. Curiously enough, the more westernized name is almost opposite of this, as it is referred to as the "Sin City of Asia" with reference to the busy night life. Being one of the oldest Asian trade cities in dealing with the West, it has had a long term standing accommodating foreigners. This has brought about many popular attractions, and some at high tourist prices!
So what can you do that's fun, interesting, and not really on the beaten-path? Being such a massive metropolis, there's hidden gems around every corner in Bangkok. Here's some of my favourite discoveries:
Forensic Museum
The forensic museum is not your run of the mill museum. This off-the-beaten-path museum is located at Siriaj Hospital, in central Bangkok. This place is crazy… and certainly not for the faint of heart! The Forensic and Pathology Museum takes you through a variety of different exhibits, examining different elements of the CSI related science, and it's use in Bangkok. The exhibits include coronary studies, head injuries, a Tsunami 2004 exhibit, and even the mummified cadaver of the most infamous serial killer in Thailand. It's not your run of the mill attraction, but certainly brings with it a heap of information and an inside look at this interesting study.
Thai Barbecue
Perhaps not best to combine this with your day at the Forensic Museum, this is a very popular Thai activity. Similar to a Korean BBQ, the Thai version incorporates a bowl at the bottom of the grill for making a soup with noodles, greens, wontons and of course some drippings from the meat being cooked on the grill above. It's a do-it-yourself activity, and all you can eat. The typical Thai BBQs run about 120 Thai Baht, and often don't have time limits dictating your stay. The buffet is immense, with tons of tasty food to try – including salads and desserts! Best if you go with some friends so you have some company to engage with while waiting on your meat to cook to your liking! They can be found all over the city – my personal favourite is Pla Thong located centrally in Bangkok near the Victory Monument sky train station!

Go to the Cinema… in bed
Going to the movies in Thailand may not seem like such a big deal. Sure there's lots of English choices available, but they're no different from the movies you can watch back home… except for one detail. A few theater complexes have developed VIP theatres. If you've got an extra evening to kill, and you really want to check out that new film your friends back home have been raving about – this is an experience in itself. Often with 3 different seating options, you can choose between the front gallery, where you'll sit comfortably under the screen in body fitting bean-bag chairs. Moving up a notch going up the sides of the theatre, you will be watching the movie with the comfort of home, in a leather recliner chair – equipped with a blanket for maximum comfort.
And then.. the cream of the crop – Check out the fully reclinable 'bed' seats. These ones go up the centre of the theater for the best seating. They have enclosing walls so you and a friend don't get the distracting sounds from people chatting around you. They also happen to recline almost completely horizontally for the effect of laying in bed. Equipped with pillows and a blanket, this is the ultimate comfort in movie watching.
This is like flying first class, minus the turbulence, and with a giant state of the art screen and surround sound system, to comfortably transport you to a far away land. Oh.. and did I mention they deliver popcorn and drinks directly to your seat? The seating runs about 300-1000 Thai Baht – cheaper than a night out back home, and in much more class and comfort. The Paragon Cineplex in central Bangkok is perhaps the most state of the art if considering this fun option.
Chatuchak Weekend Market
This is about as full on as markets get. At the very end of the sky train and subway lines, it's easy to get to from nearly every central point in Bangkok. This market is probably the largest of it's kind that I've ever been to. It's definitely the biggest in Bangkok. It's so big in fact, there's maps available showing you the different areas to visit, and how to navigate to them. It's roughly 4 city blocks in size, and easy to get caught up in and just spend the day browsing! You can get just about anything here – from clothing, to food, to art work, and even pure bred puppies! Once you've finished your shopping, or just need a break, there's a massive park right next to it that you can go and lounge in and examine your loot! You'll find some of the best prices here, and is a great option for buying souvenirs.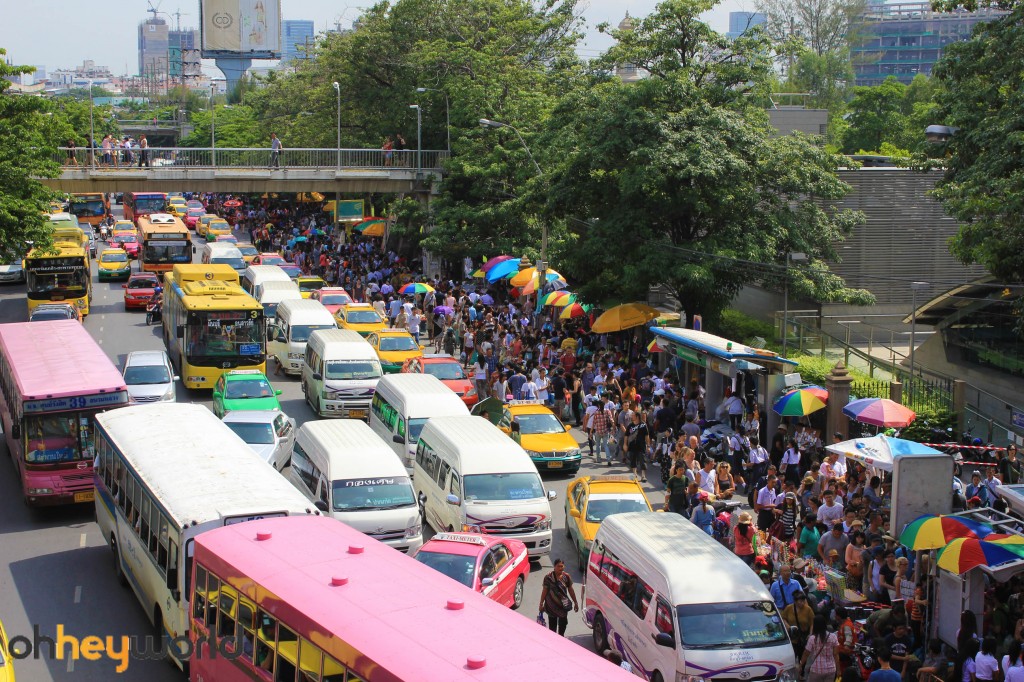 Visit Refugee Prisoners at the Immigration Detention Centre (IDC)
Now this can be a tough one for some people. It doesn't exactly sound like the beaches and temples vacation you had originally planned on doing, but may be one of the most rewarding off-the-beaten-path experiences in Bangkok. There are countless people who have been imprisoned for overstaying their visas or living here illegally as refugees. They live with very little, and lack some basic necessities, such as vitamins, carbohydrates and hygiene products. There are a few NGOs in Bangkok who, for a very small fee of about $15, take you to visit some of the refugees and bring them these products with your donation. When you get out of your comfort zone and try to help others in need, you quickly learn the benefits of love and adventure that come from changing people's lives for the better.