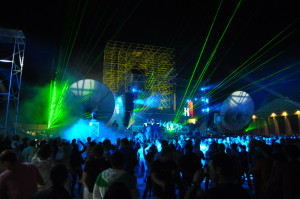 When I told my friends in Ukraine that I wanted to come see them next summer, they suggested going to Kazantip along with them. That wasn't the first time when I heard about this strange festival, the so-called "Republic of Kazantip". Since I'm a big fan of techno music and love pretty girls in bikinis, I agreed without hesitation. I arrived in Ukraine at the beginning of August and soon my friends and I headed to Popovka, a sleepy resort town on the Black Sea coast where Kazantip is held. Once arrived, we first got settled in a small hostel, bought our tickets for the festival that are called "viZas" and went to look around the town. Although I came there for the first time, my Ukrainian friends had showered me with stories about wild parties on the beach, non-stop music played by the world's best DJs and of course hundreds of beautiful girls in bikinis (and without).
The next day, when we were hanging out on the Kazantip beach lined with dozens of bars and dance floors, I noticed that some girls had their viZas of different colors. Unlike most visitors like me who had the red cards, there were girls with green and white passes. My friends told me that the green viZas are given to the girls who are specially hired to promote various parties and events during the festival. It's no problem if you approach, talk and drink with them. However I was warned to stay away from the girls with white passes, not even try talking to them. Those were the most beautiful girls, true super models. They came along with VIP guests, the richest Russian oligarchs, who have their own private, strictly guarded areas at Kazantip with own bars, swimming pools and other facilities. In short, if I dared to bother one of those goddesses, I could have been immediately kicked out of the festival.
Kazantip really turned out to be a paradise for open minded people like me. I enjoyed in full all the opportunities the festival had to offer: amazing music, swimming, dancing and sun bathing on the beach, drinking beer and Russian vodka with my friends and, of course, lovely evenings spent in the company of cute girls. That was the time to relax and not think, even for a second, about work and problems left at home. Just like for most other people at Kazantip, our day began late in the afternoon. Then we went to the beach and stayed there till sunset. And as the time got closer to midnight, the most interesting part began. There were different parties every night. We wandered from bar to bar, and from one dance floor to another one. When we felt totally exhausted, we just sat down on the sand and looked up at the night sky lit up with eye-popping fireworks, lasers and searchlights. Regardless of how tired you are, you never feel bored at Kazantip!
I've been to many festivals, but I have never experienced anything similar to Kazantip. I never thought I would see so many naked bodies, alcohol, wealth, sociability, neon, thunderous sounds of music and happy faces all at one place. While at Kazantip I totally forgot about the normal life. This is one of the main reasons why you will want to return here again and again after having visited it once. To tell the truth, it is much different from a typical festival and it is not for everybody. The Republic of Kazantip "gives shelter" only to the most open minded people without any complexes and taboo. I am proud to say I am one of those freaks!