The Oh Hey World welcome kits are a cornerstone resource for OHW users. Once you check into a new city, we want you to have a concise handful of tips tailored exactly to your interests and travel style that are relevant to where you find yourself. That means if you're keen to use coworking spaces in each new city you visit, whether you land in Denver or Singapore we'll show you the most relevant shared working environments (from great wifi cafes to coworking spots).
The OHW community is still growing (we're in beta and we so appreciate your early support!) and for that reason the welcome kits contain city tips sourced from our travel network. We've looked to long-term travel community and curated the best tips and resources they have to offer on cities all over the world. These welcome kits will grow and change as the community grows up, and we expect many more tips to surface not only from our curated network, but from you—our OHW users.
Right now, if you see a tip you love you can "like" it to help others in the community know that it truly is a top way to experience that city. We're counting on the collective power of a strong global community to create user-generated and dynamically changing tips as new cafes, shops, and businesses surface.
If you haven't seen a welcome kit yet (we've rolled them out in select cities in the US and Southeast Asia) have a look at Bangkok or perhaps San Francisco. Both of these cities are hubs of tech entrepreneurs and digital nomads and as such, we've collected the most relevant information you'll need on arrival in either of these cities.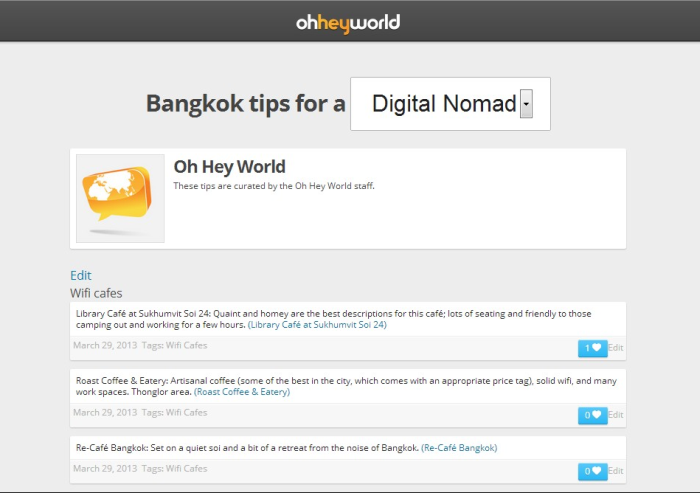 What types of tips will you find?
The best coworking and hackerspaces in the city
Wifi cafes (and only the ones that won't get snooty if you camp out for a bit!)
Accommodation recs
Popular activities in the region
Really, it varies depending on where you land. If you're in Denver, we suspect you'll want to touch base with the entrepreneurial scene and perhaps the best nearby hikes. But if you land in Bangkok, we give some tips on finding long-term accommodation alongside the best coffee shops in the city. As the tips grow, you'll also find custom kits for families since we know you have different needs than an entrepreneur in town on business.
We think this feature will change the way travelers arrive in a new city.
How do we envision your arrival experience?
It starts with a check in on OHW to notify of your safe arrival (update the Book of Face) and then see if any friends (or friends of friends) are nearby. After the check-in, our welcome kit gives you a bead on the exact tips you need to get right to the travel experience with minimal fuss (and only the best handful of tips).
Then you're on your way to that great coffee shop, coworking space, restaurant, or hike.
In short, the tips will grow a lot in the coming weeks and months to customize welcome information for every type of interest or traveler. And if you're keen to create your own welcome kit for a city you know and love, email me and we'll give you special early access.
Many thanks for being a part of the OHW community, and if you're not signed up yet, request private beta access!