Michigan is bursting with activities to do, from being outdoors to spending a rainy day inside. During the summer, take advantage of all the lakes in the state and head to the beach. When the brutal winter comes, you can spend your time inside admiring art.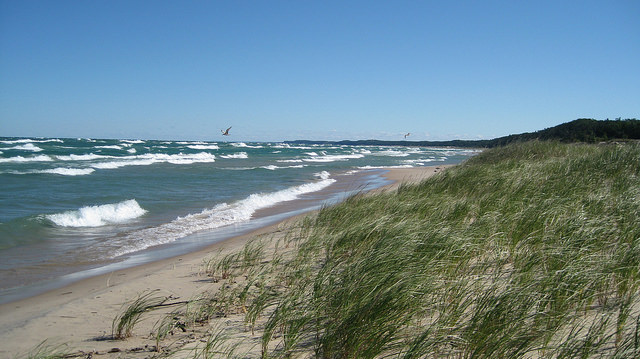 Image via Flickr
Spend the Day on Belle Isle
Located in Detroit, the island is almost 1000 acres, which means it's full of things to do. See animals in the aquarium or pay a visit to the Nature Zoo. If you prefer to be indoors, head to the Anna Scripps Whitcomb Conservatory, a botanical garden and greenhouse on the island. You can even swim if you need to cool off from the summer heat.
Head to the Beach
Bordering Lake Michigan makes for easy beach access without leaving the state. Pere Marquette Park Beach is one of three certified "clean" beaches in the Great Lakes so you don't have to worry about being able to swim in the water. Volleyball courts are all over the sandy beaches, making it a popular sport in the summer.
Visit the Henry Ford Museum
Learn about the history of Michigan and the important people who made the state what it is today. Unique artifacts call this museum home, such as the bus Rosa Parks sat down on and Lincoln's rocker, the chair from the theater he used on that fatal day. Exhibits are constantly rotating, so there's always something new to see during each visit.
Explore Tahquamenon Falls State Park
Located in the upper peninsula of Michigan, it's the state's second largest state park. With almost 50,000 acres of land, there's 40 miles of walkable trails to go hiking.  There's also 13 lakes, so take a dip to cool off in between discovering the two waterfalls. Canoeing and fishing are also popular activities in the warmer months.
Admire the Arts
Art lovers will enjoy spending the day in the Detroit Institute of Arts Museum. In addition to the regular art exhibits, special exhibitions are always changing to mix things up. They also offer Friday night concerts, weekend movies, and Sunday afternoon lectures. Many people say it's hard to see everything in just one visit, so plan on several days if you have the time.
Locals also love living in Michigan for many reasons. Charles M. Kronzek states his love for the state below:
"Living in Mid Michigan gives me easy access to hundreds or wonderful destinations with most being within a one hour drive. From Lansing, I can drive east and be in Detroit in about an hour. I'll pass dozen of lakes and tourist destinations.
I can drive west and be in Grand Rapids in an hour of be on the beach on Lake Michigan is just over an hour. I can drive north and be in a casino or an indoor water park in an hour. Driving south for an hour takes me to Ann Arbor, the University of Michigan football stadium or the Arts Fair. Staying right at home in Lansing gives me full access to Michigan State University, their planetarium, a wonderful art museum, botanical gardens, General Motors and touring Broadway shows."