The 2nd question from the high school research project questions…
What kinds of food have you experienced?
All kinds. Truthfully, I'm not a huge foodie. I can tell the difference between crappy food and great food of course, but all the layers in between and precisely why one dish is better than another is largely unnoticed by me. I'm not a details person, and, for better or worse, that stretches into food as well. On the other hand, Jodi Ettenberg is a foodie someone who loves food / food expert (see JodiEats). That's a big reason I just ate whatever she told me to eat in Chiang Mai (& NYC) last year — and I was never disappointed. Annie Cheng is a foodie food expert. But I am not…
What I will say — by far and away, my favorite food in the world is from Southeast Asia, with Thai food at the top of the list and Vietnamese just below it. Cashew chicken nut, and chicken pad thai specifically. Pad see ew is also amazing. I discovered pho on my trip to Vietnam in 2008, and haven't looked back since. Outside of Asia, I love Spanish paella.
I'd say the worst food I've had was a dish in Ghana, which I can't remember the exact name. It was some sort of dough that was pounded with a mallet for hours, and you dip it in hot sauce to give it some flavor. I felt terrible not eating all of it it since someone had spent hours and hours preparing it. But it was seriously gross.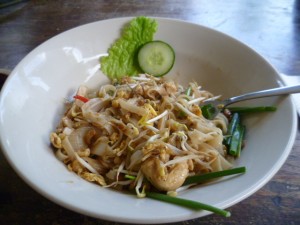 What about you? What are your favorite foods you've experienced traveling?