Hiking in Red Rock State Park in Sedona, Arizona automatically makes you think: this is what the old west looked like before any of it became monetized. Seriously, you cannot fathom the natural beauty of the arid landscape of the desert landscape that is Sedona, Arizona.
Whether you're taking a day trip up to this location from Phoenix (a 2-hour drive away), or staying at a local hotel, make sure you take enough time to take in the local sites, shops, and good eats. One piece of good advice would be this: go to Sedona if you want to relax and chill out. Folks head to this town in The Grand Canyon State to get away from the bustle of major cities and reconnect to the land.
Gorgeous brilliant red landscape, naturally formed rock structures that show nature's ability in creating geometric shapes, and antisocial flora that'll make sure to pinch you if you dare touch it.
I'm talking about the cacti in case that wasn't clear.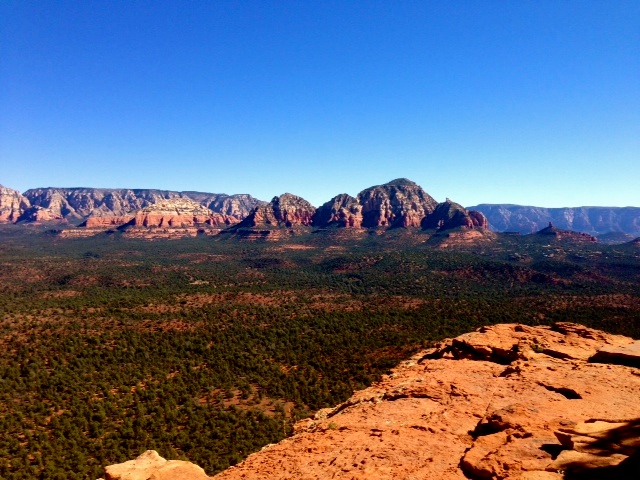 When you're at the top of any of those massive rock plateaus, the openness you experience in the dry desert air and the landscape you gaze at truly does take your breath away. The views look so crisp and clear, literally, like something out of a movie. If you want clear hiking whether, and don't feel like getting fried at 110F, then it's best to head out to Sedona during the September-November months.
FYI – any of those hikes are way more fun if you hum the theme song to Indiana Jones as you ascend the rocks. Trust me on this one.
No matter which national park you choose to go see, the amazing panorama views will take your breath away. A solid point of interest though to trek to would be Bell Rock. For those of you who want to cover more ground, and not by foot, you can always enlist the help of the Pink Jeep Tours and choose from their packages.
Yes, it's exactly like it sounds, you're driven around by a pink jeep.
If you athletically up to it and feel like embarking on a 3-4 hour trek in any of the protected state parks in Sedona, make sure you have water, snacks, and a camera so you can plop down for a bit once you reach the top of any of the local summits. You'll want to take a few moments to not only reflect on the climb you just did, but also take in the literally breathtaking landscape of the green valleys enveloped by the surrounding rocks, the rainbow cascade of earth tones on the rock faces, and the clear blue robin's egg blue sky above your head.
Ahhhhhhh – drink it in.
Now, let's not forget about the locals. I'm sure you've heard about the energy vortexes that people flock to Arizona for in regards to healing, meditation, and prayer. Well, the people in Sedona truly are all about that, and, the local stores reflect those values. If you're an open-minded free-spirited, even if you venture to call yourself a hippy, then Sedona is for you! Precious minerals, pendants of spiritual significance, or toiletries that are organically locally made will all reflect the natural beauty and 'return to mother Earth' style that Sedona is proud of. Some of the most notable stores where you can get gifts for yourself or others would be at Peace Place Gifts or the Mystical Bazaar.
While there are tons of great local restaurants to eat at, one in particular is quite scrumptious: the Barking Frog Grille. With their generous portion sizes, wide variety of flavors, and aesthetically pleasing plate presentations – you can rest assured you won't make a bad culinary choice heading to this place.
Enjoy your southwestern adventure!