When I decided to hit the travel trail in late 2011, I planned to go to Southeast Asia and be a digital nomad building WordPress websites (such as this one for Room77) until I figured out what my next career move was (which turned out to be building Oh Hey World). I did all sorts of research to figure out the best places to live as a digital nomad in Southeast Asia, and I eventually decided upon Chiang Mai due to the sheer volume of good recommendations about the city from other travel bloggers (Koh Tao was my second choice). When I arrived in Chiang Mai in early February to stay for a few months, I had a few very specific questions related to getting acclimated to the region:
Where should I stay for 1-3 months?

What expat communities exist?

What events are coming up that I'd be interested in?
Which coffee shops are the most comfortable with strong Wifi?
Who are the interesting people I want to meet?
That information was hard to find, so I set out to solve this problem on Oh Hey World. Our digital nomad welcome kits now answer those exact questions for digital nomads all over SouthEast Asia — and, eventually, the world.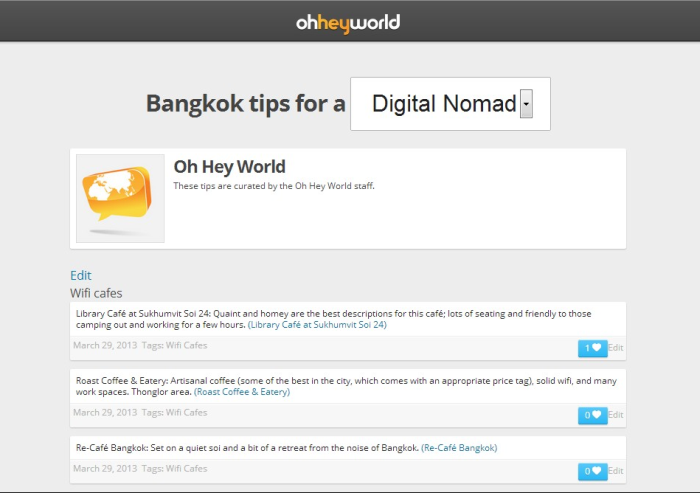 Globetrotting around Southeast Asia right now making money from your computer? If so, you're in luck because we have welcome kits we've specifically curated for you for the major expat hubs around the region.
Tips for digital nomads in:
Have you been to any of these cities, and have something we should add? Leave a comment here or email shannon@ohheyworld.com and we'll add them to our collection. If you'd like to create your own completely custom welcome kit for a city (such as this one for Santiago), then head over to our Welcome Kits page to learn more.
PS: You can also view some community generated welcome kits and OHW curated welcome kits in the US.